Personalized Music for Your Goals
Vibe draws upon cognitive science, music theory, and artificial intelligence to develop a personalized profile for each user.
​
Playlists are curated and enhanced to help you reach a mental goal.​ They dynamically adjust, in real-time, as Vibe observes your response to the music.
​
Whether you're looking to calm down after a stressful day or get in the zone while studying or working, Vibe creates a personalized outcome-based playlist for you.
Calm Mode
For relaxing when feeling overwhelmed or stressed.
​
Focus Mode
Prime your brain for attention, during studying or work.
​
Energize Mode
Recharge when energy levels are low or feeling down.
​
Sleep Mode
Ideal for resting and easing into deep sleep.
​
Ambience Mode
3D binaural beats & nature soundscapes. Ideal for meditation, yoga, and exercise.
Driven by science, backed by data
We work with expert advisors in the fields of Psychology, Music Cognition and User Centered Design.
​
Through extensive research and testing into biometric and psychometric monitoring, we've created an auditory experience that is intuitive and unique to each user. Currently, we are undergoing pre-clinical trials on our technology.
Our Affective Music Recommendation System
LUCID currently has a pending patent on this technology, which uses machine learning to choose the right music at the right time based on a user's starting mental state, and their target mental state.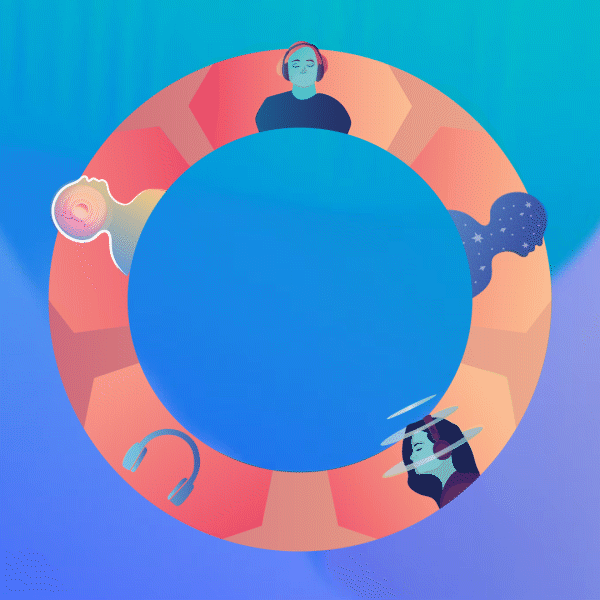 "An amazing experience top to bottom. In a world of constant choice I've actually been looking for something that requires zero thinking and this app has really answered that urge."
"Music really helps me calm down in times of crisis and the fact that I have an app that curates music just for me is really lovely."
LUCID is a Toronto startup driving innovation at the crossroads of mental health, machine learning, and music.
Our mission is to help individuals take control of their mental wellness by creating tools attuned to their specific physiological needs. We believe that through scientific and technological development, we can unleash the full potential of sound and music.